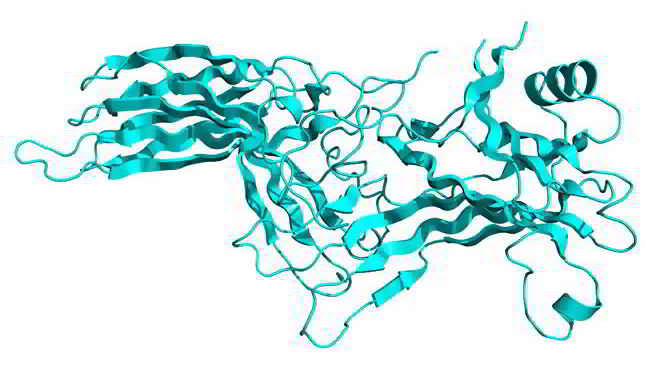 Size

0.1mg

Catalog no.

R31275

Price

389 EUR
Buy
Tested applications
WB, IHC-P
French translation
anticorps
Recognised antigen
Beta Arrestin 1
Clone
Polyclonal antibody
Form
Antigen affinity purified
Clonality
Polyclonal (rabbit origin)
Host animal
Rabbit (Oryctolagus cuniculus)
Recommended dilutions
Western blot: 0.5-1ug/ml,IHC (Paraffin): 0.5-1ug/ml
Concentration
0.5mg/ml if reconstituted with 0.2ml sterile DI water
Intented use
This beta Arrestin 1 antibodyis to be used only for research purposes and not for diagnostics..
Properties
If you buy Antibodies supplied by NJS poly they should be stored frozen at - 24°C for long term storage and for short term at + 5°C.
Immunogen
An amino acid sequence from the N-terminus of human ARRB1 (ANVQSFPPAPEDKKPLTRLQER) was used as the immunogen for this beta Arrestin 1 antibody (100% homologous in human, mouse and rat).
Notes
The stated application concentrations are suggested starting amounts. Titration of the beta Arrestin 1 antibody may be required due to differences in protocols and secondary/substrate sensitivity.
Species reactivity
Human (Homo sapiens), Mouse (Mus musculus), Rat ; Due to limited knowledge and inability to test the antibody against all known species, we cannot guarantee that no other cross reactivity can occur.
Storage
After reconstitution, the beta Arrestin 1 antibody can be stored for up to one month at 4oC. For long-term, aliquot and store at -20 deg. Celcius or lower. Cycles of freezing and thawing can denaturate the peptide chains of the antibodies and reduce their sensitivity and/or change their affinity. Prepare aliqotes in such a manner so that freeze-thaw cycles are minimized. Avoid repeated freezing and thawing.
Description
Beta Arrestin 1 is a protein which in humans is encoded by the ARRB1 gene. Members of arrestin/beta-arrestin protein family are though to participate in agonist-mediated desensitization of G-protein-coupled receptors and cause specific dampening of cellular responses to stimuli such as hormones, neurotransmitters, or sensory signals. By fluorescence in situ hybridization,this gene is mapped to 11q13.4. Beta Arrestin 1 is a cytosolic protein and acts as a cofactor in the beta-adrenergic receptor kinase (BARK) mediated desensitization of beta-adrenergic receptors. Besides the central nervous system, it is expressed at high levels in peripheral blood leukocytes, and thus the BARK/beta-arrestin system is believed to play a major role in regulating receptor-mediated immune functions.