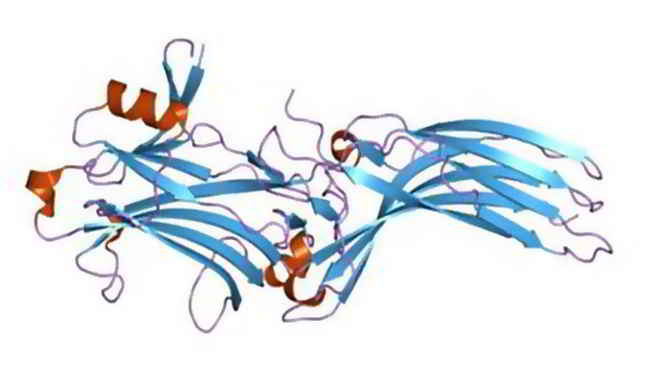 Size

0.1mg

Catalog no.

R30943

Price

389 EUR
Buy
Tested applications
WB, IHC-P
French translation
anticorps
Recognised antigen
Beta Arrestin 2
Clone
Polyclonal antibody
Form
Antigen affinity purified
Clonality
Polyclonal (rabbit origin)
Host animal
Rabbit (Oryctolagus cuniculus)
Recommended dilutions
Western blot: 0.5-1ug/ml,IHC (Paraffin): 0.5-1ug/ml
Concentration
0.5mg/ml if reconstituted with 0.2ml sterile DI water
Intented use
This Beta Arrestin 2 antibodyis to be used only for research purposes and not for diagnostics..
Properties
If you buy Antibodies supplied by NJS poly they should be stored frozen at - 24°C for long term storage and for short term at + 5°C.
Immunogen
An amino acid sequence from the C-terminus of human ARRB2 (RLKGMKDDDYDDQLC) was used as the immunogen for this Beta Arrestin 2 antibody.
Notes
The stated application concentrations are suggested starting amounts. Titration of the Beta Arrestin 2 antibody may be required due to differences in protocols and secondary/substrate sensitivity.
Species reactivity
Human (Homo sapiens), Mouse (Mus musculus), Rat ; Due to limited knowledge and inability to test the antibody against all known species, we cannot guarantee that no other cross reactivity can occur.
Storage
After reconstitution, the Beta Arrestin 2 antibody can be stored for up to one month at 4oC. For long-term, aliquot and store at -20 deg. Celcius or lower. Cycles of freezing and thawing can denaturate the peptide chains of the antibodies and reduce their sensitivity and/or change their affinity. Prepare aliqotes in such a manner so that freeze-thaw cycles are minimized. Avoid repeated freezing and thawing.
Description
Beta Arrestin 2 is an intracellular protein that in humans is encoded by the ARRB2 gene. Members of the arrestin/beta-arrestin protein family are thought to participate in agonist-mediated desensitization of G protein-coupled receptors and cause specific dampening of cellular responses to stimuli such as hormones, neurotransmitters, or sensory signals, as well as having signalling roles in their own right. Arrestin beta 2, like arrestin beta 1, was shown to inhibit beta-adrenergic receptorfunction in vitro. It is expressed at high levels in the central nervous system and may play a role in the regulation of synaptic receptors. Beta-arrestins were originally discovered in the context of heterotrimeric G protein-coupled receptor desensitization, but they also function in internalization and signaling of these receptors.