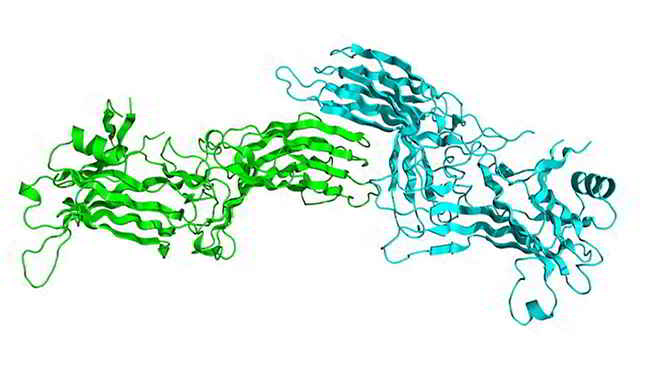 Size

0.1ml

Catalog no.

bs-8710R

Price

263 EUR
Buy
French translation
anticorps
Concentration
1ug per 1ul
Target Antigen
Visual Arrestin
Cross reactivity
Human, Mouse, Rat
Category
Primary Antibodies
Modification site(s)
Unmodified antibody
Clonality
Polyclonal antibody
Also known as
Visual Arrestin PAb
Clone number
Polyclonal antibody
Tested Applications
WB, IHC-P, IF(IHC-P)
Purification method
This antibody was purified via Protein A.
Long name
Visual Arrestin Primary Polyclonal Antibody
Recommended dilutions
WB(1:100-1000), IHC-P(1:100-500), IF(IHC-P)(1:50-200)
Specificity
This is a highly specific antibody against Visual Arrestin.
Cross reactive species details
Due to limited amount of testing and knowledge, not every possible cross-reactivity is known.
Synonym names
V-Arrestin;Visual-Arrestin.arrestin; 48 kDa protein;Retinal S-antigen; S-AG; Rod photoreceptor arrestin.
Source
This antibody was obtained by immunization of the host with KLH conjugated synthetic peptide derived from human Visual Arrestin
Storage conditions
Keep the antibody in aqueous buffered solution containing 1% BSA, 50% glycerol and 0.09% sodium azide. Store at -20°C for up to 1 year.
Properties
If you buy Antibodies supplied by Bioss Primary Unconjugated Antibodies they should be stored frozen at - 24°C for long term storage and for short term at + 5°C.
Background of the target antigen
Members of the Arrestin/beta-Arrestin protein family are thought to participate in agonist-mediated desensitization of G protein-coupled receptors, and cause specific dampening of cellular responses to stimuli such as hormones, neurotransmitters or sensory signals. Visual Arrestin, also known as Arrestin, retinal S-antigen or S-Arrestin, is a major soluble photoreceptor protein that regulates light-dependent signal transduction through G protein-coupled receptor (rhodopsin) activation. Visual Arrestin is expressed in retinal photoreceptor cells and the pineal gland. Visual Arrestin is the major pathogenic autoantigen in inflammatory eye disease, such as uveoretinitis and Oguchi disease, a rare autosomal recessive form of night blindness.