Arrestin-β-1 Rabbit monoclonal antibody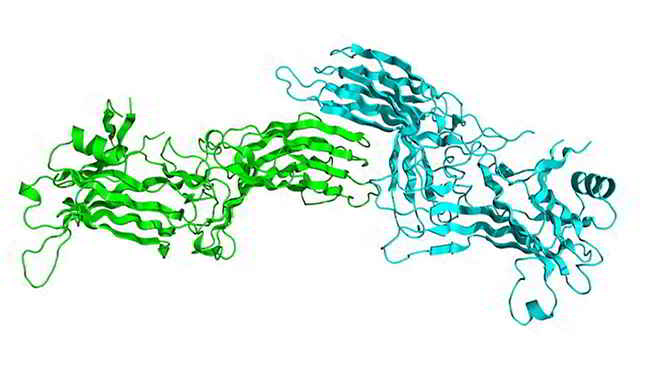 Size

100ul

Catalog no.

BS9935M-100ul

Price

548 EUR
Buy
French translation
anticorps
Reactivity
Human,Mouse,Rat
Applications
WB ICC/IF IHCFC
Latin name
Oryctolagus cuniculus
Immunogen
Recombinant antibody.
Purification&Purity
Protein A affinity purified
Note
For research use only, not for use in diagnostic procedure.
Application_all
WB: 1:1000-1:2000 ICC/IF: 1:50-1:200 IHC: 1:50-1:100 FC: 1:50-1:100
Product
Rabbit IgG, 1mg/ml in PBS with 0.02% sodium azide, 50% glycerol, pH7.2
Storage&Stability
Store at 4°C short term. Aliquot and store at -20°C long term. Avoid freeze-thaw cycles.
Specificity
This antibody detects endogenous levels of Arrestin-β-1 and does not cross-react with related proteins.
Usage
Western blot (WB) analysis of Arrestin-β-1 Rabbit mAb at 1:1000 dilution Lane1:PC12 whole cell lysate Lane2:Jurkat whole cell lysate
Properties
If you buy Antibodies supplied by Bioworld they should be stored frozen at - 24°C for long term storage and for short term at + 5°C.
Alternative Name
ARB 1; ARB1; ARR 1; ARR1; ARRB 1; ARRB1; Arrestin 2; Arrestin beta 1; Arrestin beta-1; Beta-arrestin-1; Arrestin-β1; Arrestin β1; β-arrestin-1
About
Monoclonals of this antigen are available in different clones. Each murine monoclonal anibody has his own affinity specific for the clone. Mouse monoclonal antibodies are purified protein A or G and can be conjugated to FITC for flow cytometry or FACS and can be of different isotypes.Rabbits are used for polyclonal antibody production by Bioworld. Rabbit antibodies are very stable and can be stored for several days at room temperature. Bioworld adds sodium azide and glycerol to enhance the stability of the rabbit polyclonal antibodies. Anti-human, anti mouse antibodies to highly immunogenic selected peptide sequences are" monoclonal like" since the epitope to which they are directed is less than 35 amino acids long.