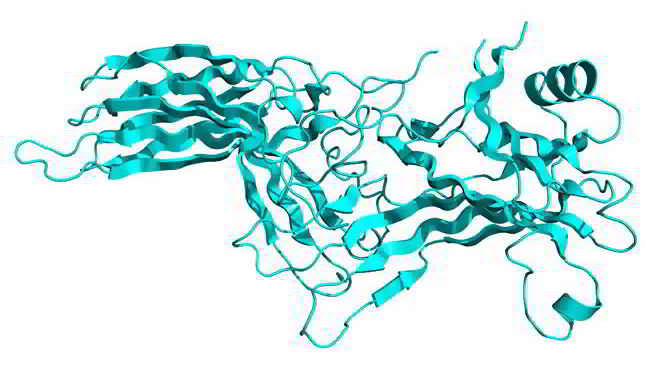 Size

0.1 mg

Catalog no.

45-295

Price

180 EUR
Buy
Quantity per ml
500 ug/mL
French translation
anticorps
Vial with antibody
in solution
Antibodie's label
unlabelled serum
Antigene name
arrestin, beta 2
Works with
Human, Mouse, Rat
Ncbi nr
NP_004304.1, NP_945355.1
Immuno application
ELISA, Western Blot, immuno precipitation
Keep at
Aliquot and store at -20 grades C. Minimize freezing and thawing.
Gene names
ARRB2, arrestin, beta 2, HGNC:712, ARB2, ARR2, DKFZp686L0365, arrestin beta 2, beta-arrestin 2
Suspention, pH, azide
Arrestin antibody is supplied in Tris saline, 0.02% sodium azide, pH 7.3 with 0.5% bovine serum albumin.
Antigen
Arrestin antibody was made against an 11 amino acid synthetic peptide near the internal region of Arrestin.
Properties
If you buy Antibodies supplied by proscience they should be stored frozen at - 24°C for long term storage and for short term at + 5°C.
Spicific to
This antibody is expected to recognize both reported isoforms NP_004304.1 and NP_945355.1. No crossreactivity is expected with Arrestin beta 1.
Purity
Arrestin antibody was purified from goat serum by ammonium sulphate precipitation followed by antigen affinity chromatography using the immunizing peptide.
Description
This antibody needs to be stored at + 4°C in a fridge short term in a concentrated dilution. Freeze thaw will destroy a percentage in every cycle and should be avoided.
Antibody advice
ELISA: Antibody detection limit dilution 1:32000. Western Blot: Approximately 40 kDa band observed in human brain lysates (calculated MW of 46.1 kDa according to NP_004304.1 and 44.4 according to NP_945355.1). Recommended concentration: 0.3-1 ug/mL. Immunohistochemistry: In paraffin embedded human cerebellum shows mainly nuclear staining of Purkinje cells and neuronal cells in the Molecular Layer. Recommended concentration, 4-6 ug/mL.