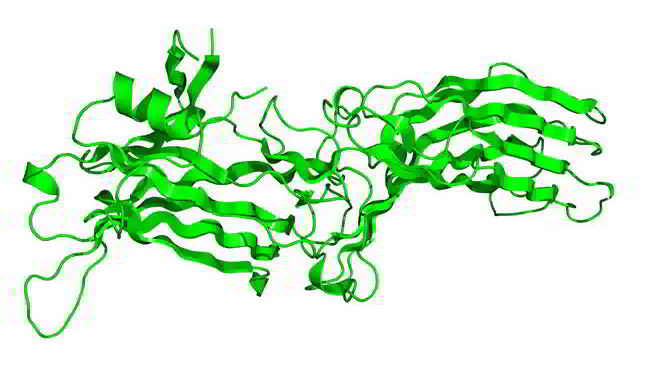 Size

0,1 mg

Catalog no.

PA2155

Price

320 EUR
Buy
Reacts with species:
human
French translation
anticorps
Product form
freeze-dried
Target antigen
beta Arrestin 1
Protein Name
Beta-arrestin-1
Gene Full Name
arrestin, beta 1
Clonality
Polyclonal antibody
Clone
Polyclonal antibody
Type of the antibody
IgG polyclonal antibody
Purification
Immunogen affinity purified.
Product configuration
Each vial contains 5mg BSA, 0.9mg NaCl, 0.2mg Na2HPO4, 0.05mg Thimerosal, 0.05mg NaN3.
Solubilization
The powdered antibody should be dissolved in 0.2 ml of distilled water to achieve final concentration of 500ug/ml
Properties
If you buy Antibodies supplied by boster they should be stored frozen at - 24°C for long term storage and for short term at + 5°C.
Synonyms
ARB1 antibody|ARR1 antibody|ARRB1 antibody|ARRB1_HUMAN antibody|Arrestin 2 antibody|Arrestin beta 1 antibody|Arrestin beta-1 antibody|Beta-arrestin-1 antibody
Immunogen
A synthetic peptide corresponding to a sequence at the N-terminus of human beta Arrestin 1(82-103aa ANVQSFPPAPEDKKPLTRLQER), identical to the related rat and mouse sequences.
Tips
The beta Arrestin 1 Antibody did not cross-reacted with other proteins during the test procedures. This antobdy is intended to be used for research analyses and it is not applicale for in vitro diagnostics.
Storage condtions
Keep the beta Arrestin 1 Antibodyat minus twenty degrees Celsius for 1 year. The ready-to-use solutions can be stored at four degrees Celsius for a month. Our specialsits recommend to freeze the aliquotes at minus twenty degrees Celsius for long-term application. Multiple procedures of freezing and thawing influence the specifity and reactivity of the antibody in a negative way.
Related articles
1. Buchanan, F. G., Gorden, D. L., Matta, P., Shi, Q., Matrisian, L. M., DuBois, R. N. Role of beta-arrestin 1 in the metastatic progression of colorectal cancer. Proc. Nat. Acad. Sci. 103: 1492-1497, 2006. 2. Nelson, C. D., Perry, S. J., Regier, D. S., Prescott, S. M., Topham, M. K., Lefkowitz, R. J.Targeting of diacylglycerol degradation to M1 muscarinic receptors by beta-arrestins. Science 315: 663-666, 2007.
Background
Arrestin, beta 1, also known as ARRB1, is a protein which in humans is encoded by the ARRB1 gene. Members of arrestin/beta-arrestin protein family are though to participate in agonist-mediated desensitization of G-protein-coupled receptors and cause specific dampening of cellular responses to stimuli such as hormones, neurotransmitters, or sensory signals. By fluorescence in situ hybridization, this gene is mapped to 11q13.4. Arrestin beta 1 is a cytosolic protein and acts as a cofactor in the beta-adrenergic receptor kinase(BARK) mediated desensitization of beta-adrenergic receptors. Besides the central nervous system, it is expressed at high levels in peripheral blood leukocytes, and thus the BARK/beta-arrestin system is believed to play a major role in regulating receptor-mediated immune functions.